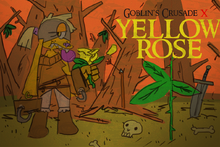 "Star of the hit series Goblin's Crusade: Yellow Rose. You've never heard of it? They used to air it after Inuyasha? Remember? Really?"
- Official Crow-actor Guide 2
Info
Yellow Rose is the protagonist of hit show "Goblin's Crusade: Yellow Rose." She's a goblin with a huge sword that grows out of a yellow rose she carries around. Her show is quite popular in the Crow Cillers series and even an entire episode is devoted to characters being interviewed on whether or not they enjoy her show. She also hung out with L'il King and friends before.