"Heaven's muscle- card trading is serious business. Tough, quiet, into pop-punk."
- Crow-acter Guide 3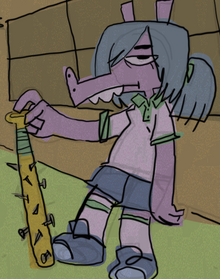 First appears in Season 4, Episode 33 alongside Heaven.
Info
Hired muscle for Heaven, she accompanies her to make sure nobody get violent after trading of C.A.R.D.S. She's sort of a friend of Paisley by proxy of Heaven, and also knows how to handle herself in a fight with her trusty death bat!