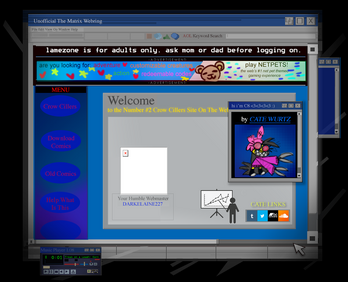 Welcome to the Lamezone Wiki
Welcome to Lamezone Wiki, a community-maintained encyclopedia of knowledge and reference for Cate to use as a resource.
Useful Links
Interview with Partydog (Novi Magazine) (her deadname's in the tags at the bottom so watch out for that)
This one dude on tumblr who posts a lot of Crow Cillers meta
Online store where you can buy official Crow Cillers shirts
Announcements:
We may have not all the stories and info you guys want, but we're trying our best to flesh this all out for your enjoyment.
Smokes and Asscastles have been fleshed out and I plan on doing some of the other puke city comics.
[ALERT]: Please help fill this wiki out. Dear god please help us.
ADMIN ANNOUNCEMENT: Hey I made a chat and a forum. I will probably never post on the forum.
[NEW ALERT]: The wiki's being fleshed out a little more now as of 2017. Please continue to help wherever you can, we appreciate it big time!
NEW ADMIN ANNOUNCEMENT: We don't have a chat anymore.
NEWER ADMIN ANNOUNCEMENT: Okay, so, as part of my Make This Wiki Cleaner initiative, I've made a character template: Template:Characterbox. This should get rid of the need to make 90% of a character page just a list of what they appeared in. I'm still a very busy person so I'll be adding it to character pages myself bit by bit, but if any of you guys could start adding this to character pages and removing redundant info I'd appreciate it. Soon I'll be doing a category overhaul and trying to make this whole place more consistent, stay tuned.
Community content is available under
CC-BY-SA
unless otherwise noted.