Jamie is a Crow Cillers character.
Info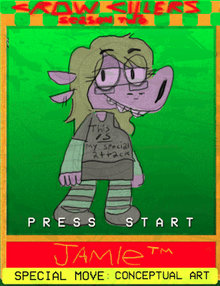 Jamie is currently in a relationship with Emma Lee. The two met when they were partnered in art class, and became quickly acquainted, with Jamie joining
Crow Cillers
shortly after.
She is an artist, and has produced comics, music, and paintings. She has worked on a comic with Emma.
Jamie's musical taste is frequently mentioned in the comic. Radiohead and Death Grips are bands that she mentions often and she has made references to Sonic Youth and Kanye West. She often sports a Radiohead bear t-shirt.