"Advanced psyform with an intense hatred of humans. Primary physical instance is an animate toy horse, but it has manifested in other forms as well."
- Crow-acter Guide 3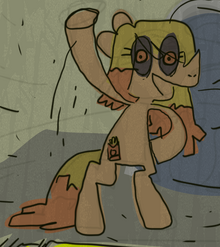 She makes her first appearance in episode 35, as Elaine's boss mentions how it must be destroyed to maintain circulation numbers.
Info
A walking, talking 'My Enormous Horse' doll with a cheery and instructive personality! Appearing first as just an inanimate doll, she soon finds her way into Elaine's home through her backpack. It is here where it's revealed she's alive and waiting for a phone call! With the next episode the call is answered, PSY facts are dropped, and the caller on the other end ain't feeling too well afterwards..