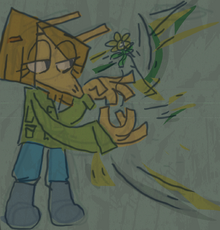 "Shy and anxious member of the Psy Squad who generally hangs back and crafts tools for the others. Does not want to get into small talk with mall staff."
- Official Crow-actor Guide 2
Info
A member of the Psy Squad, Coby Hull possesses the power to materialize objects out of thin air. A pretty laid back person in general but will still fight when needed. She's easily cornered by cute girls and loves nachos.