"Endlessly helpful gentle Crane Machine master. Seems to know everyone."
- Crow-acter Guide 3
Brecken is a character who first appeared in
Crow Cillers
season 4 episode 1.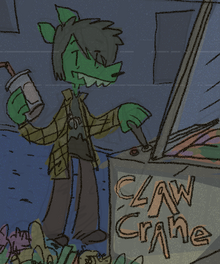 Info
Brecken is an acquaintance of Sour Gummy's whom they turn to for advice on removing the curse on Gummy Grey's hand. While he seems to know some things about magic, he's currently focused on claw machines and little else. Gummy Green seems to be a little attracted to him, to her embarrassment.